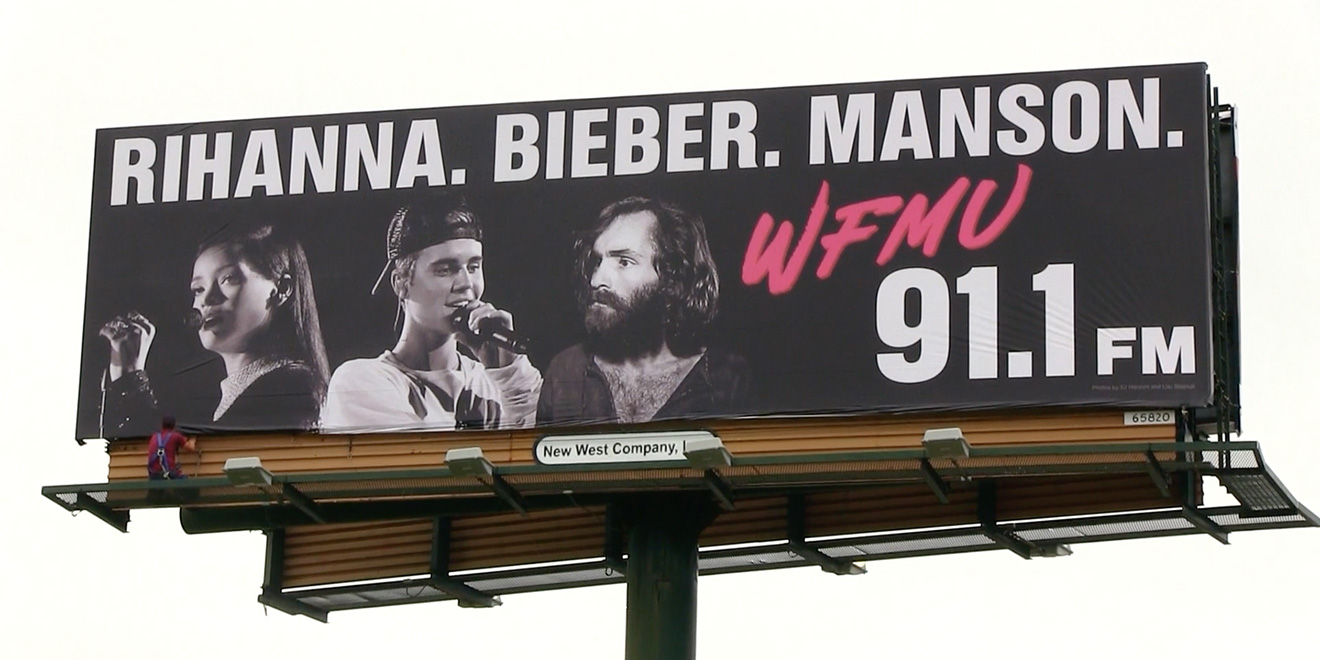 This confusing and tasteless billboard advertising was made possible by you
Billboard advertising and New Jersey just got a little weirder.
New Jersey radio station, WFMU-FM, just put up a billboard featuring Justin Bieber, Rihanna and, uh, Charles Manson on busy Route 280 in Newark.
The station is in the middle of a Kickstarter campaign to choose and fund its "first (and last)" billboard advertising.
As they put it,  the station is "perpetually short on cash but long on ideas and innovations".
Donors can choose the ad's theme by popular vote.
What could possibly go wrong?
In the Kickstarter video, station manager Ken Freedman described the project as an effort to "take the power of billboards away from The Man and give it back to you, the people."
"If you are offended, confused, perplexed by this billboard, we apologize and there's still time to correct this egregious error," Freedman continues, and by this, he means you can vote on a second billboard design.
But check out the other billboard advertising choices.
Choice No. 2 reads, for no clear reason, "Assault. DUI. Tax Evasion. Polka." before it pitches the station.
No. 3 isn't much slicker: "Four out of five doctors recommend WFMU, 91.1 FM. The fifth doctor is an asshole."


"This confusing and tasteless billboard was made possible by you." – Ken Freedman
Ken Freedman adds that 75,000 motorists an hour take Route 280, making it an especially appealing spot to pitch for new listeners.
Out of home (OOH) advertising revenue rose 1.5 percent in the second quarter of 2017 compared to the previous year, accounting for $2.38 billion.
Year-to-date 2017 the OOH industry is up 1 percent and outperformed all traditional local media, which was down the first half of 2017.
It's still hard out there for an ad-free radio station.
As one suggested billboard put it, WFMU has been "broadcasting for 59 years and you've probably never listened," because "we suck at marketing."