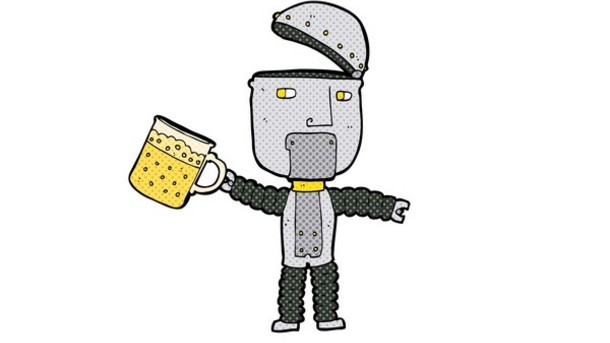 An AI beats humans at naming craft beer
A neural network system has learned to name craft beer from a huge dataset extracted from BeerAdvocate.com.

Credit: Lewis and Quark
Researcher and electrical engineer Janelle Shane has already trained AI to name kittens, metal bands, Pokemon, paint colors, and more.
The AI-generated craft beer names vary from likely, to weirdly impressive, to bet-level eccentric.
Here are some of my favorites:
IPAs
Bigly Bomb Session IPA
Binglezard Flack
Heart Compost
Test Tha IPA
The Great Rebelgion
Devil's Chard
The Oldumbrett's Ring
Amber Ales
Fire Pipe
Ole Blood Whisk
Frog Trail Ale
Stouts
Barrel Aged Chocolate Milksmoke
Shock State
Avidberry
Strong Pale Ales (Doubles, Triples, etc)
The Great Rebelgion
Trippel Lock
Thick Back
The Fraggerbar
Dankering
Third Maus
Sip's The Stunks Belgian Tripel
Slambertangeriss
Third Danger
Track Of The Wind
Devil's Chard
Spore Of Gold
The Actoompe
Brother Panty Tripel
The Oldumbrett's Ring
Gunder Of Traz
Cherry Boof Cornester
Amber Ales
Snarging Red
Warmel Halce's Comput Ale
Fire Pipe
Blangelfest
Stoodemfest
La Cat Tas Oo Ma Ale
Ole Blood Whisk
Frog Trail Ale
Ricias Donkey Brain
Sacky Rover
Gate Rooster
Cramberhand
O'Busty Irish Red
Helusto's Humpin' Red
The Hunty
Rickin Organic Red Deaath
River Smush Hoppy Amber Ale
Stouts
I The Moon
The Bopberry Stout
Cherry Coconut Mint Chocolate Stout
Black Morning
Sir Coffee
Shock State
Take Bean
Single Horde
Whata Stout
Shany Lace
Black Sink Stout
Barrel Aged Chocolate Milksmoke
Shump
Morning Dave – Vanilla Coffee Stout
Avidberry
Dark Thomblan
Jrankers Java Stout
Besides being fun, an AI naming beers could actually be useful. Brewers are running out of names.
Click To Tweet
NPR reports that companies are getting into legal battles over beer names, or at least into Twitter fights.
Meanwhile, a pint of that Thrennt Rem Wine Barrel Aged Monkay Tripel, my good man.
You can find more AI grog over at Shane's blog, and you can also hand over your email address for a PDF with 100 more great names.