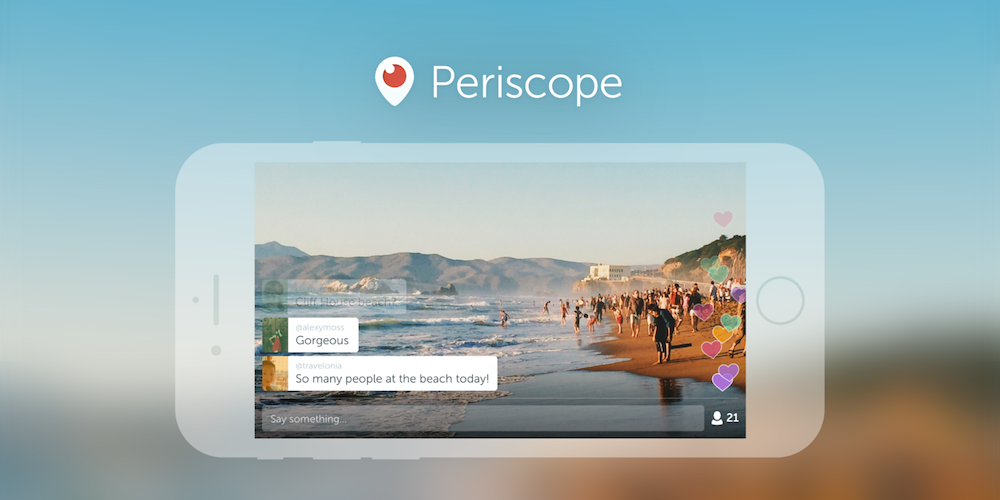 Periscope, it's just…stuff
Periscope, it's just…. stuff.
by Siobhan O'Shea
So says my 6 year-old digital native, when there weren't enough people "doing crazy things" on the live streaming app. And she's right. It is mainly just stuff. Stuff like people displaying the contents of their fridges. Gwyneth Paltrow's fridge, if you're interested, contains a stick of celery and a smoothie. There are a few videos proudly "featured" daily like the amazing Alexander McQueen exhibit at the Victoria and Albert Museum and hundreds more in the genre of a guy seeing how many chicken nuggets he could cram into his mouth.
In case you're rushing to see the video of the Alexander McQueen exhibit, you won't catch it on Periscope any more. Like Snapchat, Periscope is fleeting. You can view a video for 24 hours after it goes live. Then it's gone.
What is Periscope?
Periscope is only a baby, having been pushed into the world by Twitter in March 2015. Friends Kayvon Beykpour and Joseph Bernstein developed the app in 2013 when trying to decide whether they should visit Taksim Square in Istanbul after rioting were reported. They wanted to be able to see what was going on in places in real-time, through the eyes of people who were actually there.
The app gained a million users in the first ten days after its iPhone launch. Since it launched it android version in May mentions of Periscope live streams on Twitter have doubled. Periscope only lets you broadcast and watch from a mobile device. Your avatar and profile information from your Twitter account are pulled to create your Periscope account. You can then use Twitter to share a link to the video. The coolest feature of Periscope is that viewers can show their approval (or not) by tapping the screen to release a stream of hearts or actually typing a comment. The periscoper or scoper can see the comment and respond to the comment in real-time. A ticker in the bottom right-hand corner shows the digits rising or falling as people enter or leave the broadcast or scope. The junior digital natives in this house were very much in favour of releasing as many streams of hearts as possible, and the viewers on Periscope seem to be a bit in love with the hearts themselves.
So what are people streaming on Periscope?
Roker Labs found that 70% of key Periscope users stream things they witness such as concerts, while 30% stream themselves and their own activities, such as preparing meals or demonstrating beauty products. People are also likely to show off tech gadgets through Periscope in the morning and afternoon, according to the study, which was conducted in partnership with analytics company Dextro. More users stream themselves cooking dinner than any other meal.
By region, the U.S. leads the pack in terms of the top streamers, followed by Turkey, Mexico, Canada, Italy and Qatar, the company said, citing Twitter profile data. [1]
Have there been any big moments on Periscope so far?
There have definitely been meaningful moments on Periscope. Sky News presenter Kay Burley used Periscope to show viewers behind the scenes of ITV's Leader Debates in the build-up to the general election, and David Cameron used Periscope to broadcast his first post-election address from Number 10. The Rolling Stones used Periscope to broadcast their 'secret' show in LA in May. The Telegraph also says that more than 40 authors have done live broadcasts on Periscope, "showing fans where they write their books and often reading from currently unpublished work"
YouTuber Nicole Arbour was the first person to debut a music video on Periscope. The video gained attention all around the world for being the first of it's kind. Not only was it ground breaking for its choice of platform, but also for being the first to broadcast pre-recorded content as if it was live. The video is available on her YouTube channel, including comments and likes made by fans during the stream. The video is also unusual in that it was shot in portrait, to fit with the Periscope style. [2]
In a nod back to its roots, eyewitnesses used Periscope to report live from the Baltimore riots. Talking about public engagement, Police in the city of Bangalore want citizens to livestream crimes as they happen. As a start, they are having local police officers stream press conferences on Periscope. Eventually, the Bangalore police plan to have Periscope crime videos viewed by a central control room, so that they can pin down the location of a crime and notify authorities. [3]
How are brands using Periscope?
BarkBox, a startup that offers a subscription service for pet products, has been using Periscope to broadcast cute puppies. Ahhh.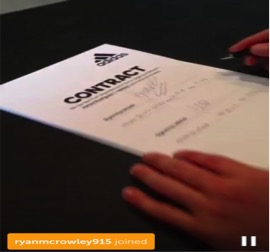 The sportswear company used the app to give fans a view of soccer player James Rodriguez signing a multi-million contract with Adidas.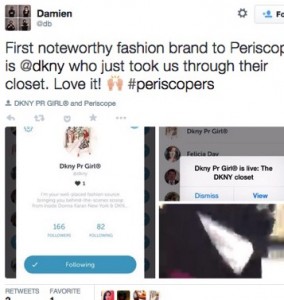 The clothing retailer DKNY gave shoppers a look inside its closet.[4]
Burberry tends to be a pioneer on new digital platforms. It was the first luxury brand to recognize an opportunity in Facebook, and one of the first to debut runway photos on YouTube and Instagram. No surprise then that the biggest Periscope brand story is probably Burberry who streamed its "London in Los Angeles" fashion show in LA to Snapchat and Periscope and won over 100 million impressions. Its use of Periscope and Snapchat to promote a menswear show in June generated what chief financial officer Carol Fairweather claimed was "the best we'd ever had in terms of digital engagement". [5]
So what Periscope created any new words we should be using?
Every new medium creates a few new words. Feel free to drop any into conversation if you want to look like you are an early adaptor from way back. The terms are scopers and scoping, never videographers and videoing. Katy Perry's biog on the site naturally says 'Perry-scoping'. Following someone on Periscope is Peri-stalking. You can Perivote on Twitter to try to influence celebrities to do things you want to see on Periscope. Like showing their fridges (that again!).
So will Periscope last or is it just pointless?
When Twitter was new people said there was no practical use for it so I think Periscope deserves a chance. It is, after all, only a few months old and has done amazing things. Not that all of Periscope is world changing. Just ask the "Man In Vest" or "Man eating a sandwich".
No matter what, people seem to be watching the Periscope space. In my next blog, I'll look at whether any celebrities are starting to emerge from Periscope. A hint, one LA-based freelance artist has more than 250,000 followers and 30 million "hearts". This dwarfs anything most Hollywood celebrities have achieved on Periscope. Have you seen anything interesting on Periscope you want to share?
[1] http://adage.com/article/agency-news/al-roker-marketers-navigate-periscope/299501/ [online]Accessed 18/7/2015
[2] http://www.independent.ie/entertainment/trending/first-ever-music-video-debuts-on-periscope-31339889.html [online] Accessed 18/7/2015
[3] http://www.fastcompany.com/3048486/fast-feed/indian-police-to-citizens-if-you-see-a-crime-being-committed-periscope-it [online] Accessed 19/7/2015
[4] http://mashable.com/2015/03/28/periscope-twitter-brands-puppies/ [online] Accessed 22/7/2015
[5] http://www.thedrum.com/news/2015/07/16/burberry-s-snapchat-and-periscope-campaigns-deliver-record-100m-impressions [online] Accessed 18/7/2015