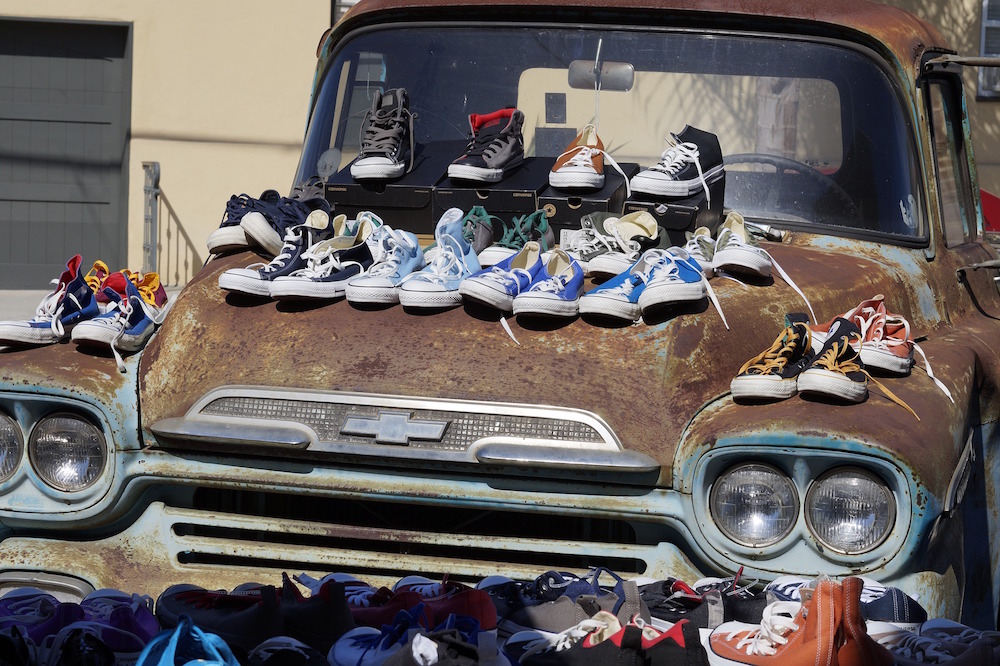 8 Great Small Business and Startup Marketing Stories You don't want to miss
Small companies are team, goalie, centre back and centre forward all in one. Here's how 8 tackled marketing.
I'm a sucker for stories about how small and new businesses market themselves. Maybe it's because they tend to involve the unexpected. Maybe because sometimes, they're surprisingly moving. Of course, the small business itself will tell you there was no choice. The money wasn't there to spend on traditional marketing. Small businesses simply have to be creative. Some of the marketing strategies in the ten stories below started organically, springing from the founder's passion for the product and knowledge of her customers. Some came about because of a fantastic sense of timing and willingness to jump on an opportunity. Some businesses are outstanding at using social media as a free marketing tool. Others focus on one customer-facing feature to stand out.
Plus Size Marketing
Rosemary Kearns clearly feels for the plight of 40% of Irish women, who can't find clothes that suit them. Before she opened Tempted Boutique in 2003, she told Joanna Kiernan on www.independent.ie that she wore clothes for years that were "much too old …or just tent-like and shapeless." At the time it was the only plus-size women's boutique in Ireland. Though the fashion industry has improved slightly, she has to laugh at their interpretation of plus-size. Mango last year introduced a plus-size range starting at size 12. Rather than make do with the "hundred black tops" in women's wardrobes (women, you know what I'm talking about) , Rosemary tries to make sure that customers leave the shop more aware of what suits their body shape. Whether they make a purchase that day or not. This approach has paid off, as customer recommendation is a huge source of her business. Facebook is also very important, they post several times a day. In a lovely, personal touch that's also great marketing Rosemary asks customers to send a photo of themselves in their new outfit. Recently Rosemary was delighted to receive at a picture of one of her customers. At the Oscars. Saoirse Ronan's godmother Margaret wore an outfit from Tempted on the big night.
Blood And Guts Marketing
Give a marketing agency an Abattoir account and you will see some very pale creatives indeed. But selling Troy's Abattoir comes naturally to Bernard Troy, who set it up in 1992. Visitors and customers are regularly met by a delicious-smelling barbecue in the front car park. Bernard is often there to point out that the meat eating comes from animals reared on his own farm and processed in his own facility. As shared with Sean Gallagher on www.independent.ie, Troy's are committed to traceability and 'farm to fork', with the animals all reared on their own farm or well-known local farms. Stressed animals produce lesser-quality meat. When animals arrive at Troy's, they are immediately placed in fresh straw beds, so they can remain calm and unstressed. This family-run business obviously cares about their animals, their customers and their staff. In fact, the abattoir got built before their own family home.
Toothsome Tableware Marketing
Plastic cutlery is a huge contributor to plastic waste worldwide – estimates suggest the US alone uses 40bn plastic utensils a year. According to a piece on www.theguardian.com, Narayana Peesapaty founded Indian cutlery company Bakeys to produce edible cutlery. The idea of eating your way through pollution is so attractive that the crowdfunding campaign on Kickstarter which had a goal of $20,000 (£14,000) has already raised 12 times that much. Peesapaty says he has had emails pouring in from around the world. "It is so simple and it is this simplicity that has caught the attention of most people," he says. The cutlery comes in three flavours – savoury (salt and cumin), sweet (sugar) and plain. Don't worry if you don't fancy the utensils, they decompose in a few days.
Boys on the Bloq Marketing
Brendan Ennis (27) and Simon Bastable (28) founded Bloq, a menswear line, last October. As they told www.independent.ie , they live and die by social media. Their website is their shop floor, so getting online presentation right was essential. They styled the shoots, took all the photographs, and a girlfriend designed the website. The biggest challenge for Bloq was competing with the big brands. The Answer? Instagram. The head menswear buyer for Asos, James Welsh, found them on Instagram and then blogged about them. They build identity through social media, in many ways ignoring traditional marketing channels. This is the future for lean young lifestyle brands, according to the Bloq boys. Even the name Bloq is a play on "block", a collective or group of like-minded people.
Cheese And Onion Marketing
There can't be too many businesses that started from a satirical website . An joke article about ""a new restaurant aiming to give a trendy makeover to….the humble crisp sandwich" went viral on social media. Inspired, Andrew McMenamin in Belfast offered to temporarily turn his cafe into a real-life crisp sandwich shop "Simply Crispy". He had already seen the popularity of the Cereal Killer Café, a café which sells only breakfast cereal, and believed there was similar potential in crisps. It opened with 35 different flavours of crisp on the menu. A Belfast bap and Tayto cheese and onion were the most popular choices. The Belfast Bap was a staple of many school lunches. On the opening day, Lines of teenagers and 20-somethings formed in front. The shop sold out within 2 hours.
Budweiser Frogs Marketing
Where do the rings for Halloween bracks and giveaway toys in cereal packets come from ?
Could be Seamus Greaney's "Universal Sourcing Services International", which has been buying and selling promotional items from the far east since 1998. They've built up a database of more than 5,000 manufacturers. One of their first products was a 10-second message recorder for the Budweiser frogs ad (remember that?). At the moment they're producing 60,000 pairs of trampoline socks for the opening of the largest trampoline park in France. To keep the business alive during the recession, USSI introduced a range of then unknown 'as seen on TV' items in 2009 which Tesco, Dunnes, Musgraves and Heatons took up. They kept their pricing aggressive and outstayed the bigger players. They've taken the next step by becoming involved in sourcing new products that their China partner, Kayee Holdings, can manufacture. So if have a bright idea or a patent, maybe Seamus can help bring it to market.
Bean Marketing
Bean coffee-bar in Dingle opened with a mission to bring big city-style coffee to the west of Ireland. "The word-of-mouth factor is really big in Dingle and other businesses will send people down to us all of the time, " says owner Justin Burgess to Joanna Kiernan in an article on www.independent.ie . In keeping with the relaxed atmosphere of Dinle, they only offer flat white, cappuccino, a latte, americano and espresso and one size cup. In common with most of the businesses on this list, they use facebook and instagram. But one area that they focused on was their striking coffee cups. Given the size of Dingle, if someone sees the cup and fancies a cup of coffee, it doesn't take long to find Bean.
Pill Marketing
Do you wait ages at the pharmacy or arrive expecting to have to come back later? In his excellent business advice column on www.independent.ie , Fergal Quinn mentions a pharmacist he met who who is texting customers when their prescription is due for refilling. When the customer responds that they do indeed want the prescription completed, it's ready and waiting for the customer. I don't know who or where this pharmacy is. If anyone does know, or if you are the enterprising pharmacist, please drop me a line.